When Motley Crue exploded onto the LA scene in 1981, there was no band louder, brasher, or ruder on the planet. Armed with heavy metal riffs, glam rock's wild look, and posey punk rock snotty attitude, as well as a whole lot of Aqua Net hairspray, Motley Crue first conquered Los Angeles and then expanded into the rest of the world. Although the band was founded by bassist Nikki Sixx following a chance meeting with then-teenage drummer Tommy Lee, it was the addition of axeman Mick Mars that truly defined Motley Crue's raunchy, rough and ready rock sound.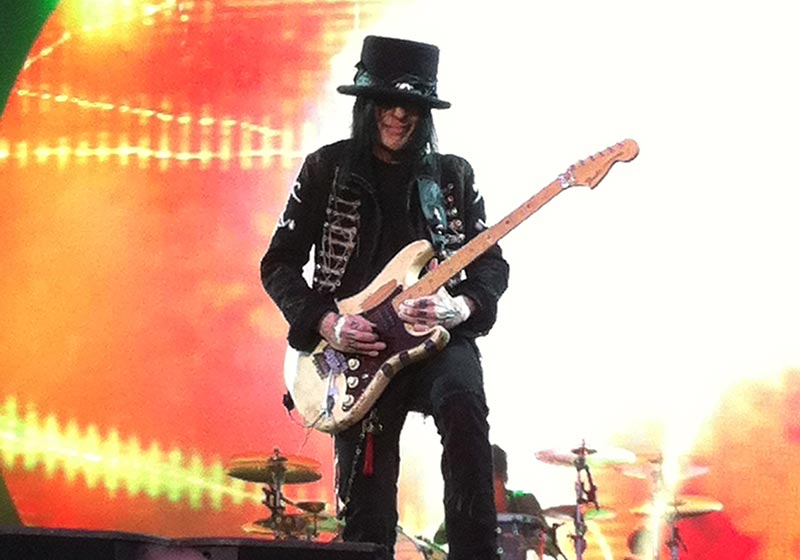 Mars' contribution to Motley Crue goes beyond his meaty, bluesy riffs and frenetic solos. Mick Mars actually came up with the name "Motley Crue", and co-wrote many of the band's biggest hits with bassist and lyricist Nikki Sixx. Only Mars and Sixx have been the constant members of Motley Crue, which has changed singers and drummers numerous times. Mars remains active in music today, touring and recording with Motley Crue in between producing for other artists and even writing a solo album. In this article, we take a close look at the guitars and gear that defined Mick Mars from Motley Crue's beginnings in 1981 all the way to the modern era.
What Guitars Does Mick Mars Play?
Mick Mars' career and iconic guitars are highlighted by two different eras of his career. His early days with Motley Crüe are heavily marked by his Black 1972 Gibson Les Paul Custom, while in later years he's become an avid player of his modified Fender Stratocaster guitars.
See the full list Mick Mars guitars and gear below.
1972 Gibson Les Paul Custom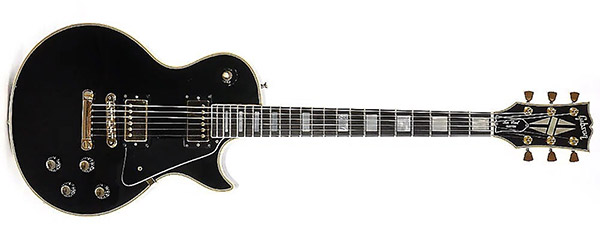 | | |
| --- | --- |
| Finish | Black |
| Years Used | 1981 to 1985 |
As seen in the above video for "Live Wire", Mick Mars' first mainstay guitar was a rock and roll classic, the Gibson Les Paul Custom. There may be no more iconic silhouette in rock and roll than this single-cutaway slab of mahogany, and Mick Mars was not immune to Les Paul's charm.
When Mars auditioned for Motley Crue in 1980, the Les Paul was a favorite instrument among many hard rockers of the day. You could see members of Iron Maiden, KISS, and even the Sex Pistols wielding a Gibson Les Paul, a far cry from its invention as a jazz guitar. Equipped with dual humbuckers and (until the mid-70s) carved from a single solid slab of mahogany, the Les Paul was the perfect weapon to deliver Mick Mars' sledgehammer riffs. Mars' model is a 1972 Les Paul Custom, which was the pinnacle of Gibson's solid-body craftsmanship at the time of its release.
The 1972 Les Paul Custom has several construction features unique to the era. Gibson Guitar Corporation was bought by Norlin in 1969, which led to changes in many of the iconic American brand's guitars. One of these was the introduction of the three-piece "pancake" body, made from a slice of maple sandwiched between two slices of mahogany. All-mahogany guitars have a darker tone, and the addition of maple gives Mick Mars' Les Paul a distinctive snap and articulation perfect for hard rock. The neck is solid mahogany, with an ebony fretboard and mother-of-pearl block inlays. The guitar has Grover tuners in the head and gold hardware, as can be seen in the "Live Wire" video above.
In the video, Mars' guitar also features an uncovered double cream pickup. Mars' guitar came with stock Gibson T-top pickups, which replaced the PAF (Patent Applied For) pickup. Mars has stated that these were his favorite pickup of all time, so whether he simply removed the cover from his bridge pickup or replaced it with another is unclear. Many hard rock and metal guitarists in the late 1970s and early 1980s were using DiMarzio Super Distortion pickups, high-output gain monsters built for driving Marshall amps into thick, articulate overdrive.
Mick Mars' Les Paul Custom was his main guitar for the recording and touring of Motley Crue's first two albums, Too Fast for Love and Shout at the Devil. According to the band's autobiography The Dirt, and the subsequent movie, Mars auditioned for Motley Crue with a Les Paul, one of two that he owned at the time. Mars decorated at least one of these guitars with a tesselating pattern, as can be seen in the below video for "Too Fast for Love"
In the background of the same video, a backup Les Paul in white can be seen, although whether this is a prop for the video or a guitar actually owned and played by Mick Mars is unclear.
Mick used his Les Paul Custom from Motley Crue's very inception up until around the Theatre of Pain era in 1985, when the band enjoyed massive commercial success and with it plenty of guitars on offer. He kept the '72 Les Paul Custom until the 1990s when Motley Crue's waning commercial fortunes led him to sell several of his prized vintage instruments. Mars told Guitar World that "the '72 Les Paul Custom that I used to play in the early days is now hanging in a Hard Rock Café somewhere in Florida. I didn't want to let go of that guitar, but I was forced to do it."
Fender Modified Stratocaster


| | |
| --- | --- |
| Finish | Worn Vintage White/Worn Sunburst/ Natural Gloss |
| Years Used | 1994 to Present |
According to Mick Mars himself, he switched to the Stratocaster in 1994 when Motley Crue was recording their eponymous grunge-influenced album with new singer John Corabi. To mark their departure from the glam sound that Motley Crue made famous, Mick Mars echoed the guitar tastes of grunge acts like Nirvana and took up Fender guitars. Mars said of his Strats:
"I loved how light a real Strat felt. One of the first real Strats that I ever owned was pieced together using '63, '64, and '65 parts. I bought it for $1,200 while we were on the Girls, Girls, Girls tour in 1987. The pickups didn't work, so I put humbuckers in it and installed a Floyd Rose. Even though it's really beat up, it's a player's guitar. I still use it on stage and in the studio."
With this "partscaster" Strat, Mick Mars began his habit of tinkering with Stratocasters to produce what he calls "player's guitars". Rather than using pristine custom shop instruments, Mars prefers cobbled-together Stratocasters with varying degrees of road wear, often featuring aftermarket pickups and tremolo systems.
Once he started playing Stratocaster, Mick Mars was in no mood to stop. He started collecting various vintage Strats, at one point owning a Stratocaster from every single year of production. Most of his collection stays home when Motley Crue hits the road, but he has a few reliable custom Stratocasters that regularly appear alongside the band.
Mick Mars' main Strat is a 1996 custom shop creation affectionately nicknamed "Isabella". She boasts Mick's favored Stratocaster configuration, including two humbuckers and a non-floating Floyd Rose bridge.
For pickups, Mick Mars uses custom-wound humbuckers for the most part. He prefers pickups with high output but not high distortion. He based this preference on the T-top Gibson PAF-style humbucker, a throwback to his old favorite instrument, the Gibson Les Paul Custom. Mick Mars' guitar pickups are custom-wound by J.M. Rolph in Melbourne, Kentucky, with 16k output compared to a more standard 7k. Mick Mars prefers the increased volume and aggression of these pickups, which don't distort as quickly as other high-output humbuckers, as it gives his tone articulation and presence without losing clarity.
For Stratocasters, Mick Mars prefers mid-1960s models. On this preference, he told Guitar World "Strats with the transition logo and larger headstock sound better, although I personally prefer the look of the all-black CBS-era logo. I've been looking high and low for a '67 Strat for that reason." Mars moved on from the rosewood and ebony fretboards of the 80s, and to this day seems to prefer a maple fretboard for his Stratocaster.
Mick Mars' aggressive playing style, which often involves playing slide guitar using a microphone stand, takes its toll on his guitars. Of his main Stratocaster, he claims "I've had three different necks on it; I've worn it out." Mick Mars' Stratocasters show their age quite clearly, as indicated in the below video from Motley Crue's live DVD Carnival of Sins. Some have the distressed finish thanks to deliberate intervention, and others are simply worn out from years on the road. Mars owns at least three custom shop Fender guitars like "Isabella", which were custom-built to mimic his hot-rodded Stratocaster.
When the time came to record Motley Crue's final studio album, Saints of Los Angeles, Mick kept on using his Stratocasters. In fact, for the album, Mars said "the Strat is about all I used". Mick Mars' devotion to the Stratocaster in this late period of Motley Crue's career is partially musical and partially practical. His gradually worsening physical condition, which extended to his spine fusing together, prevents Mick Mars from using heavier guitars. His unique Stratocaster sound is the result of tinkering and intervention to get an instrument light enough for Mars to play live but with a powerful enough sound to compete with the classic Motley Crue tones of Les Pauls and Kramers. Mars' custom Strats can be heard in the eponymous single, below, from Saints of Los Angeles. This is easily one of the most iconic Mick Mars guitars of all time.
Gibson Custom Flying V

| | |
| --- | --- |
| Finish | Black |
| Years Used | 1982 to 1983 |
Following the modest success of Too Fast For Love, Motley Crue hit the road with a coveted support slot opening for KISS. Motley Crue was promptly removed from said tour for bad behavior, and in lieu of anything better to do, quickly returned to the studio, armed with a freshly signed record deal. They recorded Shout at the Devil, a decidedly heavier affair. Shout at the Devil was occult hard rock, without a ballad in sight. The album was marketed with a theatrical, occult stage show and new costumes, and Mick Mars' Les Paul was far too understated to appear live. He wanted a more radical guitar, and the first new addition to his arsenal was this Gibson Flying V.
Mick Mars' V was custom-built for Motley Crue's Shout at the Devil tour, with a single humbucking pickup in the bridge. As is evident in the above photo, this black V has a custom black pickguard. The Flying V has a mahogany body and neck. It's possible that Mick Mars requested an ebony fretboard, similar to his Les Paul Custom, for the Flying V, when Gibson was building the guitar for him. Certainly, in pictures, the fretboard looks almost black rather than the deep brown color of rosewood, Gibson's other fretboard material. It appeared in several photos but was rarely played live as Mars preferred his Les Paul Custom's tone and feel.
Popular Related Article: Zakk Wylde Guitar Rig Rundown
BC Rich Warlock

| | |
| --- | --- |
| Finish | White |
| Years Used | 1983 to 1985 |
Mick Mars' more garish taste in guitars began in earnest with this offering from boutique builders BC Rich. The Warlock appeared extensively in promotional videos and photos during the Shout at the Devil era, including the "Looks that Kill".
The BC Rich Warlock features a mahogany body, maple neck, and rosewood fingerboard. Early BC Rich Warlocks, like Mick Mars', were built with neck-through-body construction, ensuring massive sustain and tone. Mars' Warlock had a tremolo system to facilitate the squeals and dive bombs that had become a major feature of his playing on the Shout at the Devil album. The BC Rich Warlock is perhaps most notable for being the first guitar to feature such a system, as virtually all Mick Mars' guitars in the years since have been similarly equipped.
Motley Crue were early adopters of the BC Rich Warlock, with bassist Nikki Sixx played a BC Rich Warlock bass almost exclusively through the Shout at the Devil era. However, Mick Mars quickly moved on to lighter pieces, as the all-mahogany construction of his V, Les Paul, and Warlock exacerbated his back issues.
Kramer Baretta Special

| | |
| --- | --- |
| Finish | Black |
| Years Used | 1985 |
Mick Mars' first Strat-type guitar was this Superstrat from Kramer guitars. With 1985's Theatre of Pain, Motley Crue embraced the glam metal style that was sweeping MTV and had major hits with "Home Sweet Home" and "Smokin' in the Boys' Room".
The Baretta is perhaps best known for being an early Van Halen signature guitar, although Eddie himself never endorsed a signature model. With its Stratocaster-like shape, single humbucking pickup, and Floyd Rose tremolo system, it was built for shredders coming up in Van Halen's wake. Mick Mars appreciated the lighter, ergonomic design of the Baretta, and used it during Motley Crue's highly lucrative glam years.
The Kramer Baretta features a slim mahogany body and maple neck, with a rosewood fretboard and a "hockey stick" headstock reminiscent of the Gibson Explorer. It has a single control knob, for volume. The sole humbucker in the Baretta is a Seymour Duncan pickup, which was among the highest-output passive pickups available in 1985. Thanks in part to Mick Mars' endorsement of the model, Kramer's sales figures in 1985 were the highest of any guitar brand.
The Baretta was only the first Kramer guitar that Mick Mars played, although, by Theatre of Pain's follow-up album, Girls Girls Girls, he had switched to a Telecaster-style Kramer with a single-cutaway.
Popular Related Article: Glen Buxton Guitars and Gear
Kramer Telecaster
| | |
| --- | --- |
| Finish | Black/White |
| Years Used | 1987 to 1990 |
Motley Crue's next two albums, Girls Girls Girls and Dr. Feelgood pushed the band further into rock stardom. They were at the pinnacle of glam metal's heyday, all over MTV, and touring the world. Mick Mars had enjoyed using what he described as "pointy" guitars but wanted something to differentiate himself from the hordes of Motley Crue wannabes crowding the airwaves on Headbanger's Ball.
Mick Mars said of his Kramer Telecaster Custom "That was a transitional guitar for me. Nobody was playing Teles back then, so that inspired me to play one. The problem with those Kramers is that they were really heavy. I loved the way they looked, though."
The Kramer Tele appears consistently throughout the late 80s, with Mick Mars deploying a variety of these guitars. The two mainstays during the Girls Girls Girls era, as depicted in the picture above and the video below, were near-identical guitars. One was black, the other was white, and on the back of each is a disembodied set of women's breasts. Both feature the phrase "Girls Girls Girls" on the face of the guitar in various configurations. The white model had a neck pickup, but the black only had a pickup in the bridge. Like the Baretta, these had mahogany bodies, maple necks, and rosewood fretboards, with Seymour Duncan pickups and genuine Floyd Rose tremolo systems.
After Girls Girls Girls came mega-hit "Kickstart My Heart" from the next album, Dr. Feelgood. Widely considered to be Motley Crue's finest hour, Dr. Feelgood is a masterclass in loud, rude glam metal, produced by none other than Bob Rock, who would later go on to produce Metallica's self-titled black album.
"Kickstart My Heart" opens with three slow guitar slides, imitating the sound of a starting motorbike. This trick was performed by the Floyd Rose tremolo system on Mick Mars' new Kramer Telecaster. This particular six-string, seen in the below live performance from 1990, has a unique mirror finish across the entire front of the instrument.
Both of the late-80s Kramers featured the same construction as the earlier models, with a single Seymour Duncan pickup and volume knob.
At least one of Mick's Kramers was traded for a Stratocaster recently. He mentions the guitar having a tremolo system, so it was either one of his black Barettas or the black Telecaster, but it's unclear which. Mars sold many of his guitars as Motley Crue's fortunes waned in the 1990s, so it's likely that many of his Kramers wound up in other hands. The trade of the Kramer for a Strat is emblematic of his switch to the Stratocaster in the '90s, a guitar to which Mars remains loyal today.
Timetable Showing Each Guitar Mick Mars Has Played at Each Point of His Career
| Make | Model | Color/Finish | Years |
| --- | --- | --- | --- |
| Gibson | 1972 Les Paul Custom | Black | 1981 to 1985 |
| Gibson | Custom Flying V | Black | 1982 to 1983 |
| B.C Rich | Warlock | White | 1983 to 1985 |
| Kramer | Baretta Special | Black | 1985 |
| Kramer | Telecaster | Black/White | 1987 to 1990 |
| Fender | Modified Stratocaster | Worn Vintage White/Worn Sunburst/ Natural Gloss | 1994 to Present |
Mick Mars Amplifier Overview
Mick Mars' guitar tone has always been as unapologetic and rude as the man himself. It's no surprise that he preferred Marshall stacks throughout his career, a brand to which Mars remains loyal to this day. In fact, when Mick Mars first joined Motley Crue, he was already playing Marshall amplifiers, a testament to the staying power of the British amps.
Mars has used various Super Leads over his career, but has in recent years experimented with boutique builds like Soldano and Crest. Let's take a close look at Mick Mars' favorite amps.
Marshall Super Lead
Mick Mars is most associated with the sound of a cranked Marshall Super Lead. He bought two Marshall stacks, consisting of an amplifier and 4×12 cabinet, in the late 1970s with money earned in a pre-Motley Crue top band. It was armed with these 1970s Marshall Super Lead amps that he initially auditioned for Motley Crue in 1980, impressing his future bandmates with the sheer volume and aggression of his playing.
It's likely that Mars was at this point using Marshall Plexi models, most probably 100-watt heads. These were the de facto amp of choice for headbangers all over the world, and Mick Mars wanted to be the loudest, rudest guitarist around. Assuming he bought these amps relatively new, Mars' Marshalls would have used Tung-Sol 6550 tubes. These were more durable than the EL34 tubes used in the British market and were included with the Marshall heads intended for sale in the USA and other territories. These tubes lacked the harmonic richness of the EL34s but packed plenty of power for early Motley Crue and their approach to rock and roll.
Mick Mars used the Marshall Super Lead extensively in the early Motley Crue years and even reverted to using a 1959-style Super Lead in recent years. The Plexi-style Marshall can be seen in the below video from 1983 when Motley Crue performed at the US Festival.
Popular Related Article: What Guitar Does Paul Stanley Play?
Marshall JCM800
Marshall introduced the JCM800 in 1981 in an attempt to truly dominate the American amplifier market. The amp was named for Jim Marshall's initials (J.C.M.) and the number plate on his car (800). The JCM800 models sold in the US, like the Super Lead before them, used Tung-Sol 6550 tubes and quickly became a favorite among the new generation of hard rock and heavy metal players.
The JCM 800 is indelibly associated with 80s metal for a few reasons. First, guitarists appreciated the addition of a master volume knob, which allowed them to achieve the characteristic overdrive of a Marshall amp at far lower volumes than on the non-master volume Super Leads. The JCM800 also featured more gain stages than any other available amp, which made it popular among the distortion-hungry masses. Dual-channel models also feature an additional diode for higher gain in one of the two channels. Early 2203 and 2204 model JCM800s remain popular to this day, as the distinctive look and sound of these amplifiers defined the 1980s hard rock and heavy metal scene.
Today, Mick Mars uses both 50 and 100-watt JCM 800s, but like his Stratocasters, these are modified. These have modifications to the preamp for three gain stages rather than two, and an extra control knob to control the amount of gain in the preamp.
Soldano SLO-100 Super Lead Overdrive
Mick Mars took to using this high-gain metal monster from boutique builders Soldano in the 2000s. Mars wanted a more expansive tonal palette than was available from exclusively using his Marshalls, and chose the SLO-100.
The SLO-100 is a decidedly modern-voiced amp, with 100 watts of all-tube power hand-wired in the USA. The Soldano has a tighter, more compressed tone than a Marshall thanks to the combination of Five 12AX7 / ECC83 tubes in the preamp and Four 5881 / 6L6 in the power amp. Soldano amps were initially popularized in the 80s (when Mars was still loyal to Marshall) among veteran players like Eric Clapton and Mark Knopfler, but eventually found their way to Eddie Van Halen, who based his Peavey 5150 on the Soldano SLO-100.
Mick Mars uses the Soldano in conjunction with his Marshalls live to add color and variation to his core tone.
Rivera Bonehead
Like his Soldano SLO-100, Mick Mars uses the Rivera Bonehead to "bring out low-end" in his live rig, used alongside his Soldano and Marshalls. The Rivera Bonehead is a chunky-sounding 100-watt amplifier designed with gain-hungry metal players in mind. The Bonehead was actually designed in conjunction with TOTO axeman Steve Lukather, a contemporary of Mick Mars', and uses Tung-Sol EL34 tubes just like the mid-70s UK Marshalls.
The Rivera, like the Soldano, is not a major feature of Mick Mars' live tone but is used for tone-shaping and coloration. Mick wires five amps including the Rivera, Marshall, and Soldano, going to different power amps to boost the signal. Supposedly this puts out about 124dB of warm, thick tone, as can be heard in the below video from 2009.
Mick Mars Pedals and Effects Overview
As with all things Motley Crue, Mick Mars' use of guitar effects has never been subtle. Mars prefers obnoxious, high-clarity effects for his playing such as a wah pedal or talkbox. In the 1980s Mick Mars occasionally used modulation effects such as chorus and often deployed an echo effect.
Perhaps the most intriguing aspect of Mick Mars' effect use (or lack thereof) is the reported absence of additional drive or distortion in his rig. At a time when distortion pedals like the MXR Distortion + were coming into vogue, Mick Mars remained old-school, preferring the thick, spongy amplifier distortion that emerged naturally from his Marshall amps. Here, we'll take a look at the effects Mick Mars has been known to use over the years.
Dunlop Heil Talk Box
Towards the end of "Kickstart My Heart", Mick Mars takes the effect Peter Frampton made famous and turns it on its head. The resulting effect, used on the song's ending solo, sounds like the world's most extreme wah pedal, or like a robot having a heart attack.
The most popular talk box for 1980s metal players was the Heil high-powered box, originally invented by Bob Heil to accommodate the high-powered stages of rock players. These featured a 250-watt JBL driver and a suitable hi-pass filter. Mars uses a variation of this effect to this day, particularly for the "Kickstart My Heart" solo when playing live.
Cry Baby
Mars' other "talking guitar" effect, the Cry Baby, is one of the most immediately identifiable sounds in rock. Era-defining axemen like Hendrix and Clapton made the wah pedal famous, and it endures as a staple of guitar music to this day. Although his use of wah was sparing in the 1980s, Mick Mars uses a wah pedal to great effect on Motley Crue's most recent album, Saints of Los Angeles, particularly on the song "Mutherfucker of the Year".
As evident in the above video, Mick Mars mostly uses the wah effect to bring personality and color to his guitar solos and melodic lead lines, creating the impression of a duet between singer Vince Neil and Mars on guitar.
Eventide H3000
The Eventide H3000 was first introduced in the mid to late 1980s, and Mick Mars owns one of the original units. The Eventide has a major role in defining Mick Mars' sound, providing chorus and an octave divider. The chorus sound heard on classic Motley Crue recordings such as "Wild Side" (below) was likely to be the Eventide H3000
Yamaha SPX1000 Delay
Mars uses the SPX1000 as a light echo effect. This multi-effects processor was first introduced in 1988, and Mars uses it live to this day "to make the sound a little wetter". For a short slapback-style delay, Mars uses an Alesis Quadraverb.
Wrap Up
Before Mick Mars was in Motley Crue, he was Robert Deal, an unassuming blues-rock guitarist who had endured ill-fated tenures with countless bar bands. In a desperate bid to reinvent himself, he changed his name to Mick Mars, dyed his hair jet black, and placed an ad in The Recycler naming himself "a loud, rude and aggressive guitar player". Privately, Mars had been battling a debilitating spinal condition called ankylosing spondylitis since he was only seventeen, which has fused his spine and caused him near-constant pain ever since. When he joined Motley Crue, Mars had been living with the illness for thirteen years already, and his enduring career with the band is a testament to his talent and fortitude.
Mars' guitar sound is immediately recognizable. Brash, thick, and distorted, it was a far cry from the shimmering cleans and light overdrive of virtually anyone else on the scene in 1980. Mars' tone complements his aggressive playing style, heavily influenced by the blues and 1970s British blues-rock. Mars prefers using droning open strings, athletic dive bombs, harmonics, and various hammer-on and pull-off techniques to deliver Motley Crue's rock and roll blitzkrieg, and his choice of guitars reflects this.
Mars depends heavily on humbucking guitars, preferring the Gibson Les Paul early on before switching to fashionable Floyd Rose-equipped Superstrat styled instruments. Eventually, due in part to his weakened skeleton, he made a permanent switch to Fender Stratocasters, which are lighter in weight and easier for him to play.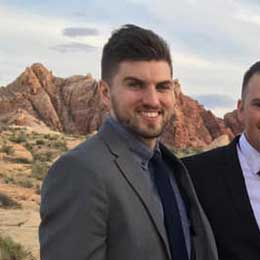 My name is Chris and I've had a passion for music and guitars for as long as I can remember. I started this website with some of my friends who are musicians, music teachers, gear heads, and music enthusiasts so we could provide high-quality guitar and music-related content.
I've been playing guitar since I was 13 years old and am an avid collector. Amps, pedals, guitars, bass, drums, microphones, studio, and recording gear, I love it all.
I was born and raised in Western Pennsylvania. My background is in Electrical Engineering, earning a Bachelor's degree from Youngstown State University. With my engineering experience, I've developed as a designer of guitar amplifiers and effects. A true passion of mine, I've designed, built, and repaired a wide range of guitar amps and electronics. Here at the Guitar Lobby, our aim is to share our passion for Music and gear with the rest of the music community.