Whether we talk about the 1920s, the 1970's or the present day, there is a legion of insanely talented female guitarists that have made massive contributions to the craft over the decades. And today, we are going to honor them with this list of the 34 best female guitarists of all time.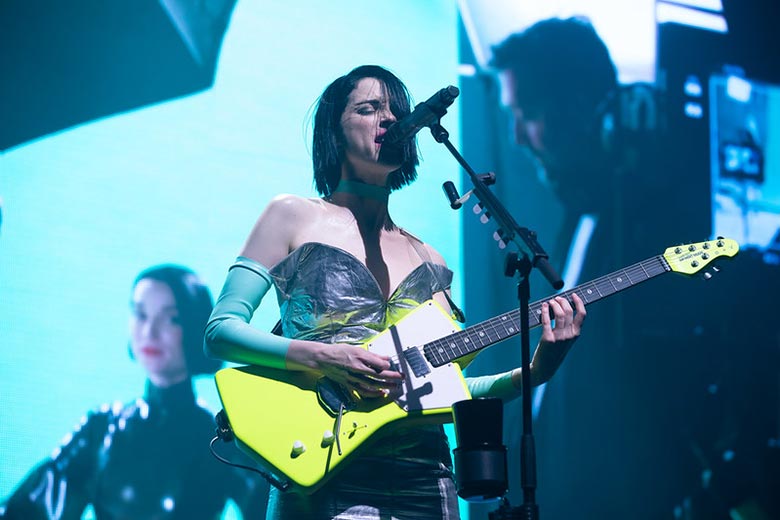 We've put together this list by picking the most impressive female guitarist over the years and across a plethora of genres. Even though they vary quite a lot in their signature playing styles, they're all guitar heroes in their own right. So scroll down and find out which of the greatest female guitarists made it to this list.
Here Are the Best Female Guitarists
1. Sister Rosetta Tharpe
| | |
| --- | --- |
| Date of Birth | 20 March 1915 |
| Birthplace | Arkansas, U.S. |
| Bands | The Jordanaires |
The definitive Godmother of Rock 'n' Roll, Sister Rosetta Tharpe, single-handedly created a whole new approach to the guitar and inspired some of music's finest names, from Chuck Berry, Elvis Presley, Keith Richards to Miranda Lambert – now that's an impressive club! Her gospel recordings were unlike anything heard before – a unique blend of spiritual lyrics with distorted tones and killer electric licks!
Born in Cotton Plant, Arkansas, into a family of religious singers and cotton pickers, Tharpe was already playing the guitar and singing by the age of four. At six, she was on the road accompanying her mother to perform at religious concerts as a part of a traveling evangelical troupe. Tharpe became famous for her precocious talent at a time when racism was rampant and black female musicians were a rarity.
Armed with her distinctive vocals and imaginative sound, she set the rock 'n' roll ball rolling! Her signature sound was a fusion of blues, jazz with gospel music. `"Strange Things Happening Every Day," "Rock Me," "Up Above My Head" are some of Tharpe's iconic recordings that showcase her craft as an astounding guitarist and singer.
2. Joni Mitchell
| | |
| --- | --- |
| Date of Birth | 7 November 1943 |
| Birthplace | Macleod, Canada |
| Bands | Joni Mitchell |
"From humble beginnings come great things," the proverb perfectly describes one of the greatest icons in the history of modern music, Joni Mitchell. Born in a tiny Canadian town of Macleod, Mitchell overcame adversities- crippling disease as a child and cash-strapped youth to being revered as a living legend today.
As a non-conformist and somewhat of a maverick, Joni Mitchell liked breaking the mold with her emotionally compelling lyrics, evocative vocals, and imaginative guitaring. Her seminal hits and complex songwriting inspired several well-known names to embark on their musical journeys. Bob Dylan, Prince, Bjork, and Taylor Swift, among many others, quote Mitchell as their major source of influence on their careers.
Mitchell's known for her extensive use of unorthodox tunings, capo, intricate fingerpicking, percussive slaps, and pedal points. Her affinity for open tunings is partly due to the childhood bout with polio that weakened her left hand, making it hard to play traditional chords. So, when life gave her lemons, this self-taught guitarist went ahead and developed a style that aspiring guitarists strive to emulate.
3. Mother Maybelle Carter
| | |
| --- | --- |
| Date of Birth | May 10, 1909 |
| Birthplace | Nickelsville, Virginia, U.S. |
| Bands | Carter Family |
Country-western music would not have been what it is if it wasn't for Mother Maybelle Carter's inventive guitar playing. Her mastery over the instrument was so incredible that she came up with new ways to incorporate guitar into music.
Before Carter came along, a guitar was mainly used only to provide background rhythm. With her groundbreaking fingerpicking technique, where she picked the melody on the bass strings while strumming the rhythm on treble strings, Carter expanded the role of a guitar to a lead instrument.
As a young prodigy par excellence, Carter learned to play guitar at the age of thirteen by ear. After her marriage to Ezra Carter, she became a part of "The Carter Family" group, which is often credited as revolutionizing country and roots music as we know it. Her daughter, June Carter Cash, and son-in-law Johnny Cash, both country icons, carried on the staggering legacy of Maybelle Carter.
4. Jennifer Batten
| | |
| --- | --- |
| Date of Birth | 29 November 1957 |
| Birthplace | New York City, New York, U.S. |
| Bands | Michael Jackson, Jeff Beck |
Fans of the "King of Pop" Michael Jackson may have noticed a vision with a big blonde mane, ripping out killer riffs and solos like nobody's business! Jennifer Batten's jaw-dropping shredding skills and two-handed tapping technique has earned her a legion of loyal fans, and deservingly so!
Batten's extraordinarily technical and imaginative playing during Michael Jackson's tours in the '80s and early '90s catapulted her popularity not just in the United States but in other parts of the world, including Japan. She then took her talents to play alongside another British guitar legend, Jeff Beck, with whom she recorded and toured from 1999 to 2001.
When Batten's not sending the crowd into a frenzy with her fiery guitar skills or making fantastic music, she is busy writing music books or creating interesting steampunk art with her own Etsy shop.
5. Nita Strauss
| | |
| --- | --- |
| Date of Birth | 7 December 1986 |
| Birthplace | Los Angeles, U.S. |
| Bands | Alice Cooper, The Iron Maidens, Femme Fatale |
Hailed as the Queen of shredding, Nita Strauss is widely known for her ongoing stint with the legendary Alice Cooper and former association with the all-tribute band The Iron Maidens. But She is also a super successful artist in her own right.
Watching Strauss navigate the length of the fretboard on stage is an absolute delight! It's so breezy and fluid! Her shredding is explosively fast but at the same time dynamic and melodic. Stylistically, Strauss is hard to emulate and also why she is the world-renowned guitar maker, Ibanez's, very first female signature artist.
To get an idea of Strauss' astonishing guitar prowess, tune in to her original composition "Marina Trench" and prepare to have your mind blown!
6. Muriel Anderson
| | |
| --- | --- |
| Date of Birth | 17 June 1960 |
| Birthplace | Downers Grove, Illinois, U.S. |
| Bands | Muriel Anderson |
Muriel Anderson is a master of her craft! The way she works her magic on an acoustic, as well as harp guitar, is absolutely captivating. As one of the most versatile fingerstyle guitarists out there, Anderson's ease in adapting to styles spanning classical, bluegrass, pop, flamenco, and folk is phenomenal.
Born into a particularly musical family, Anderson learned piano and guitar pretty early on in life, forming a bluegrass band in high school. She made history by becoming the first female guitarist to win the National Fingerpicking Guitar Championship. Her instrument of choice is the 21-string custom-made harp guitar which has both nylon and steel strings.
Anderson is not only a gifted musician but a charitable soul who, through her Music for Life Alliance, works tirelessly towards making music accessible to every child across the country, regardless of economic and social background.
7. Nancy Wilson
| | |
| --- | --- |
| Date of Birth | 16 March 1954 |
| Birthplace | San Francisco, California, U.S. |
| Bands | Heart, The Lovemongers, Roadcase Royale |
With her virtuosic fingerpicking and powerful vocals, Nancy Wilson has earned an unparalleled place in the history of rock 'n' roll and inspired thousands of women to follow suit. Together with her sister, Ann, Wilson became a part of Heart, a group of hard rockers who went on to become one of most successful bands in the genre with over 35 million in record sales worldwide.
Wilson's nylon strings-powered guitar chops and fusion of elements of flamenco with hard rock elevated the sound of Heart to another level. From belting out galloping riffage in "Barracuda" and crooning away to glory in Heart's chart-topping single "These Dreams," Nancy Wilson's talent knows no bounds.
In 2013, Wilson became a Rock and Roll Hall of Famer and was also recognized by Gibson as the eighth-greatest female guitarist of all time.
8. Memphis Minnie
| | |
| --- | --- |
| Date of Birth | 3 June 1987 |
| Birthplace | Tunica County, Mississippi, U.S. |
| Bands | Memphis Minnie |
Memphis Minnie, or Lizzie Douglas' 200 songs-strong catalog and pioneering blues guitar work drew several prominent artists into music, including Bonnie Rait and Led Zeppelin. As a black woman in music in the early 20th century, Douglas' life was an uphill battle with racism and sexism. Her rise as a formidable blues icon empowered many women to live their dreams.
A self-taught banjo and guitar player, Douglas ran away from home at the age of 13 to play on Beale Street in Memphis, also known as the home of blues and birthplace of rock 'n' roll. She continued playing there on and off over the years, eventually getting discovered by a talent scout for Columbia Records. Her life took a turn for the better, and a year later, Douglas recorded her signature song "Bumble Bee" under the moniker "Memphis Minnie.
Douglas' prolific career lasted for over three decades, where she recorded with all major labels- Bluebird, Columbia, and Checker and was pivotal in reviving the blues music scene.
9. Kaki King
| | |
| --- | --- |
| Date of Birth | 24 August 1979 |
| Birthplace | Atlanta, Georgia, U.S. |
| Bands | Kaki King |
With her alternate tunings, technical sensibilities, jazz fuelled melodies, and a spectacular stage presence to boot, Kaki King, is easily one of the most innovative acoustic guitarists in recent times. The Brooklyn-based guitar virtuoso's sound draws inspiration from a wide range of genres, from modern classical, progressive jazz to pop.
Hugely influenced by Michael Hedges and Preston Reed, King's fingerpicking is a fascinating blend of fret-tapping with slap bass techniques. In 2006, Rolling Stones featured Kaki on a list of "The New Guitar Gods," where she happened to be the only woman and the youngest musician.
Apart from a stellar career as a solo performer, King has contributed to the soundtracks of many notable shows and movies, including Into the Wild and The Twilight Saga.
10. Joan Jett
| | |
| --- | --- |
| Date of Birth | 22 September 1958 |
| Birthplace | Wynnewood, Pennsylvania, U.S. |
| Bands | The Runaways, Joan Jett & the Blackhearts |
Who hasn't heard The Runaways' cover of "I Love Rock 'n Roll"! The chart-topping song captured Joan Jett's infectious aura and pretty much summed up who she is- a fearless rocker who loved smashing stereotypes.
As a frontwoman of The Runaways and later Joan Jett & the Blackhearts, Jett's organic guitar chops, awesome vocals, and boisterous stage presence earned her the title of "Queen of Rock 'n' Roll." Having grown up loving bands like Black Sabbath, Led Zeppelin, The Sex Pistols, and The Rolling Stones, Jett's sound was a confluence of rock 'n' roll, punk, and glam.
Jett wasn't a very technically driven guitarist. For her playing the guitar was all about breaking barriers to pave the way for future female musicians. With her rebellious attitude, magnetic energy, and brilliant music, Joan Jett ended up becoming one of the most influential women in music.
11. Lita Ford
| | |
| --- | --- |
| Date of Birth | 19 September 1958 |
| Birthplace | London, England |
| Bands | The Runaways |
While Joan Jett's firebrand songwriting and rocking vocals defined The Runaways, it was her bandmate, Lita Ford's edgy riffs, and heroic solos, that took their sound to another level – dubbing her as the undisputed 'Queen of Metal'!.
As the lead axe-woman for the band, Ford was hailed for her sensational pop-metal hooks and phenomenal shredding prowess. Following the band split, Ford embarked on a solo career, which firmly established her as an influential rocker and one of the best guitarists to have emerged out of the '80s punk rock and glam metal scene.
The goddess of shredding has recently launched her own range of guitars and also became the first female to be given The Certified Legend Award by Guitar Player in 2014. Tune in to 1989 Ford's duet with Ozzy Osbourne's "Close My Eyes Forever" and "Kiss Me Deadly" from her breakthrough album Lita for some of her most memorable guitar licks and sultry vocals.
12. Elizabeth Cotten
| | |
| --- | --- |
| Date of Birth | 5 January 1893 |
| Birthplace | Carrboro, North Carolina, U.S. |
| Bands | Solo |
Millennials may not have heard her name, but Elizabeth Cotten's distinctive guitar style and her timeless classic "Freight Train" have embedded her presence in our collective consciousness.
To say she had a difficult childhood would be an underestimation. Born to a musically inclined family, Cotten was playing songs by the age of 8, but financial woes forced her to quit school and work as a domestic maid. Hardships couldn't dampen her spirits, and by the age of 12 had acquired her first guitar.
Her unique fingerpicking technique came about when she had to play guitar meant for right-handed players being left-handed herself. Cotten then started playing it upside down which made her play bass lines with fingers and melody with the thumb. This alternating bass style later became famous as "Cotten picking."
13. Yvette Young
| | |
| --- | --- |
| Date of Birth | 28 June 1991 |
| Birthplace | San Jose, California, U.S. |
| Bands | Covet |
Most of the names on the list up till now belong to icons of yesteryears. Does that mean there are only a few prominent female guitarists today? Absolutely not! If anything, thanks to the trailblazers of the past, there is a significant step-up in female presence in today's music scene than there was ever before! With her fantastic dexterity, complex harmonies, and advanced ornamentation, well-known YouTuber Yvette Young indeed leads the pack.
Young started out by learning piano at the age of 4 and violin at seven but was drawn to the guitar, which she taught herself. She weaves her sound using a unique playing style in the backdrop of a fusion of rock, classical, and folk music. The magnitude of Young's flair and versatility can be understood when you hear her nature-inspired acoustic renditions to sophisticated electric licks that she unleashes while fronting for her math rock band Covet.
And as if that's not enough, she's also a killer graphic artist who hand-paints her own guitars in some awe-inspiring designs. Talk about pure, unadulterated talent!
14. Annie Clark (St Vincent)
| | |
| --- | --- |
| Date of Birth | 28 September 1982 |
| Birthplace | Tulsa, Oklahoma, U.S. |
| Bands | The Polyphonic Spree |
Three-time Grammy-winning ace guitarist Annie Clark's wildly dramatic stage persona instantly commands attention which she holds effortlessly through her phenomenal musicianship. Though her weapon of choice is an electric guitar, a quirky designed one at that, she is a gifted multi-instrumentalist who plays bass, piano, organ, and theremin. Clark doesn't shy away from using a host of instruments and chaotic, dissonant, and complex arrangements to power her enigmatic, genre-bending signature sound.
Widely known by her professional moniker, St Vincent, Clark often talks about how her love for grunge bands like Nirvana, Pearl Jam, and Soundgarden was what drew her to the guitar. Joining Polyphonic Spree swung her career into motion. She then started touring with Sufjan Steven before forming a band of her own.
Clark's powerful guitar playing is packed with acrobatic riffs, crunchy chords, and free-flowing solos. Her evolution as an artist has been beyond fascinating, and she seeks to constantly reinvent her sound to give her fans something they haven't heard before.
15. Bonnie Raitt
| | |
| --- | --- |
| Date of Birth | 8 November 1949 |
| Birthplace | Burbank, California, U.S. |
| Bands | Solo |
You cannot have a list of iconic female guitarists and not have ten-time Grammy-winning Bonnie Raitt on it! With her phenomenal slide playing, distinctive vocals, a fusion of blues, rock, folk, and country music, Bonnie Raitt has been winning hearts for decades. Raitt has inspired an entire legion of female guitarists, paving the way for future generations with her trail-blazing success and musicianship. Bonnie was the first globally famous female guitarist whose work I came across, and I've been a fan ever since.
Rolling Stones placed her 50 on "100 Greatest Singers of All Time" and 89 on "100 Greatest Guitarists of All Time." But that's just one of the many feathers in her cap! Her colossally successful career packed with roots-influenced best-selling hit singles goes on to show just how well Raitt knows how to craft a tune. For all of this and more, Bonnie Raitt ranks high among one of the most influential female guitarists of all time.
16. Esperanza Spalding
| | |
| --- | --- |
| Date of Birth | 18 October 1984 |
| Birthplace | Portland, Oregon, U.S. |
| Bands | Esperanza Spalding |
The jazz trailblazer beat the likes of Justin Bieber, Mumford & Sons, Florence, and Drake to win the award for Best New Artist at the 2011 Grammys. A win that managed to upset an army of Bieber fans but also made Esperanza Spalding's phenomenal talent known to the mainstream audience.
A musical prodigy through and through, Spalding was performing as a violinist with the Chamber Music Society of Oregon when she was just five. She further made history as the youngest faculty ever to teach at her alma mater, the prestigious Berklee School of Music, beginning at age 20.
Although Spalding is known for her virtuosic bass skills, her talent extends to a violin, oboe, clarinet, woodwinds, and guitar. Complex harmonies, melodic phrasing, and eclectic rhythm, accompanied by rich vocals, drive Spalding's fascinating worldly sound.
Tune in to "I Know You Know," "Earth To Heaven," "Song For Pepper" from Spalding's impressive discography to get a glimpse of her incredible skill and ingenuity.
17. Orianthi
| | |
| --- | --- |
| Date of Birth | 22 January 1985 |
| Birthplace | Adelaide, Australia |
| Bands | Alice Cooper's touring band |
Awe-struck after watch Carlos Sanatana live in concert, an eleven-year-old Australian-born Orianthi picked up the electric guitar and never looked back. At 18, she was already jamming with Sanatana, who loved Orianthi's melodic wailing so much, he wants to pass the baton to her.
As a musician, Oritanthi is constantly challenging herself. Her astonishing guitar abilities can be gauged from her dazzling licks with Steve Vai to anchoring the lead parts for Alice Cooper. She got an opportunity of a lifetime rehearsing with Michael Jackson when he chose her for what would have been his comeback tour.
In 2009, Elle magazine named Orianthi one of the "12 Greatest Female Electric Guitarists". Her debut single "According to You" became a worldwide sensation cracking the top 10 in Australia and Japan. With her blistering solos, fiery riffs, catchy hooks, Orianthi has cemented her place as one of the best female guitarists the world has seen.
18. Liona Boyd
| | |
| --- | --- |
| Date of Birth | 11 July 1949 |
| Birthplace | London, England |
| Bands | Solo |
Spellbound by her debut performance at Carnegie Hall, Classical guitar virtuoso Andrés Segovia told Liona Boyd, "through your beauty and talent, you will conquer the public, philharmonic or not." And she has been doing just that! Touted as the "The First Lady of the Guitar" by her fans, London-born and Toronto-raised Liona Boyd's role in taking classical guitar mainstream has been truly inspirational.
Since her enchanting debut, Boyd's released 26 studio albums. She also has five Juno Awards and The Order of Canada under her belt. As one of the most popular classical guitarists since the '80s, Boyd's recorded prolifically during her career. She's recorded and toured with many well-known musicians, including Chet Atkins, David Gilmour, Eric Clapton, and Olivia Newton-John, just to name a few.
For her flawless playing, check out the carefully curated 20th Century Masters from her catalog that features some of Boyd's best work.
19. Peggy Jones
| | |
| --- | --- |
| Date of Birth | 19 July 1940 |
| Birthplace | New York, New York, U.S. |
| Bands | Bo Diddley |
As a child, Peggy Jones first learned ballet, was trained in opera, even performed at the prestigious Carnegie Hall at just nine. She then started playing the ukulele before finally discovering her love for the guitar and dedicating her life to it.
Jones' phenomenal talent was matched by her determination to make it big in the guitaring world, which in the '50s and '60s was not easy for a woman. A chance meeting with the rock 'n' roll legend Bo Diddley turned out to be a gamechanger. She was soon playing and accompanying Diddley and came to be known as "Lady Bo."
After exiting Diddley's group, Jones formed her own band, "the Jewels." The racially diverse R&B group of men and women ended up becoming pretty popular in the '60s and '70s New York club scene.
Not the one to slow down, Jones remained musically active even in her twilight years. She passed away in 2015 at the age of 75.
20. Tash Sultana
| | |
| --- | --- |
| Date of Birth | 15 June 1995 |
| Birthplace | Melbourne, Australia |
| Bands | Solo |
The youngest on this list, Tash Sultana is a "one-person band" with a mindblowing grasp on twenty instruments! But despite her absolute ease with an array of different instruments for her, "home is the guitar."The ease with which this solo wizard works her magic on three electrics, drum machines, a stack of pedals, and an assortment of instruments, is mesmerizing to watch and hear!
Born and raised in Melbourne, Australia, Sultana was only three when she started playing the guitar, which she received as a gift from her grandfather. As a teenager, she began busking on the streets of Melbourne, eventually becoming the vocalist of a local band, Mindpilot.
In 2016, a home recording of her composition "Jungle" changed Sultana's life forever. The video fetched more than a million views within days, eventually clocking over 40 million views. Her multi-layered, loopy sound is a mix of trip-hop, indie rock, reggae. ska, pop with solos that are electrifying and explosive.
21. Susan Tedeschi
| | |
| --- | --- |
| Date of Birth | 9 November 1970 |
| Birthplace | Boston, Massachusetts, U.S. |
| Bands | Tedeschi Trucks Band |
The supremely talented duo of Susan Tedeschi and her husband Derek Trucks is one of the best things that's happened to the guitar community. Both are stellar guitarists in their own right who use a unison of Tedeschi's formidable solos, breathtaking licks, and Trucks' genius slide work to enthrall the crowd.
Tedeschi sings as well as she plays. Her soaring vocals and searing solos are the stuff of dreams. As a solo artist, Tedeschi's talent has been called upon as the opening act for many icons like Bob Dylan, The Rolling Stones, and B.B. King. She's also opened for The Allman Brothers Band, which is how she met their frontman Trucks. The pair have been musing amazing music together as Tedeschi Trucks Band since 2010.
22. Kristy Marlana Wallace (Poison Ivy)
| | |
| --- | --- |
| Date of Birth | 20 February 1953 |
| Birthplace | San Bernardino, California, U.S. |
| Bands | The Cramps |
As the co-founder and guitarist of the famous punk-rock band The Cramps, Kristy Marlana Wallace has had a pioneering influence on American punk music. Recognized by stage name Poison Ivy, Wallace alongside her husband Lux Interior, created adventurous, punk, and rockabilly-tinged music for over three decades. As the band grew and evolved, so did Wallace.
Her reverb-laden chords, slow-chugging riffs, and overall guitar work influenced by '50s rock-and-roll-meets-blues became the bedrock for the Cramp's hybrid sound. Over time Wallace started belting out sensational solos.
Since the loss of her partner and disbanding of the Cramps in 2009, we haven't seen much of her. But Wallace remains to this date a role model for a generation of aspiring female musicians.
23. Meshell Ndegeocello
| | |
| --- | --- |
| Date of Birth | 29 August 1968 |
| Birthplace | Berlin, Germany |
| Bands | Rare Essence |
She has been nominated for eleven Grammies, but that hardly does justice to the fiercely talented and adventurous Meshell Ndegeocello. As one of the most prolific female bassists the world has seen, Ndegeocello has collaborated with a wide range of artists from various genres. A well-stacked resume of working with The Rolling Stones, Alannis Morissette, John Mellencamp, Madonna, as well as a slew of amazing solo records, are testament to her versatility.
As a solo artist, Ndeogeocello's known for her creativity and the way she crafts the groove. Music experts hail her as a key contributor in driving the boom of neo-soul. Her signature sound is a delicious blend of soul, funk, jazz, hip hop, reggae, and rock that keeps the listeners hooked!
If you haven't already heard her music, you can pick out any of Ndeogeocello's twelve studio albums and get transported to a place where groove and funk rule! She's easily one of the most organic bassists that I've ever heard!
24. Carol Kaye
| | |
| --- | --- |
| Date of Birth | 24 March 1935 |
| Birthplace | Everett, Washington, U.S. |
| Bands | Session Bassist |
With 10,000 session recordings in her resume, Carol Kaye is arguably the most prolific bassist in the history of rock and pop. Over her career spanning five decades, Kaye's collaborated with the likes of Brian Wilson, Quincy Jones, Frank Zappa, Simon and Garfunkel, Frank Sinatra, Neil Young, Phil Spector. The list seems endless! You cannot work with so many distinguished names from different genres and styles without being enormously versatile.
The jaw-dropping ease with which Kaye can adapt to eclectic styles makes her one of the most sought-after studio musicians ever. Kaye's own style is crafted around melodic and syncopated sounds, which she powers with her inventive picking technique.
25. Sarah Longfield
| | |
| --- | --- |
| Date of Birth | 1 October 1994 |
| Birthplace | Madison, Wisconsin, U.S. |
| Bands | The Fine Constant |
Next on our list is YouTuber Sarah Longfield, whose talented fretwork on an eight-string and quirky sense of humor has made her a bonafide internet sensation.
A master at two-handed tapping, Longfield is always looking for new sounds, textures, and tones, as well as techniques to express herself. Her collaboration with Rob Scallon on some ukulele covers of metal songs catapulted her popularity, which she followed up by forming a band, The Fine Constant.
Longfield's excellent command over an 8-string was recognized by Guitar World magazine when they named her one of "15 of the World's Greatest Seven- and Eight-String Guitarists" in 2018.
26. Emily Remler
| | |
| --- | --- |
| Date of Birth | 18 September 1957 |
| Birthplace | New Jersey, U.S. |
| Bands | Emily Remler |
Jazz virtuoso Emily Remler was only 32 when she died of a heart attack, but even in her brief career, she created a legacy that changed the face of jazz forever. Hailing from New Jersey, Remler's early years were spent playing rock but her time at Berklee College of Music expanded her horizons.
Following the footsteps of her idols Charlie Christian and Wes Montogomery, Remler perfected her skill and stunned the world with her fluid and imaginative playing. Her extraordinary guitar work in defining bop-to-blues style earned her the title of "Guitarist of the Year" in Down Beat magazine's international poll in 1985.
She was once asked how she wanted to be remembered to which the fearless and supremely talented Remler replied, "Good compositions, memorable guitar playing, and my contributions as a woman in music." and that is exactly how we will forever remember and cherish you, Emily. Thank you for sharing your awe-inspiring gift with the world!
27. Marnie Stern
| | |
| --- | --- |
| Date of Birth | 18 March 1976 |
| Birthplace | New York, U.S. |
| Bands | The 8G Band |
Her lightning-fast playing, inventive tapping technique, and sonically textured sound firmly place Marnie Stern in the league of modern guitar idols. All of her four studio albums have been a feast full of clever hooks and frenzied finger-tapped melodies that have garnered rave reviews.
Sadly, Stern has not got the commercial success she deserves despite the critical acclaim and getting ranked as one of the greatest guitarists in several polls and lists. Nowadays, you'll find her playing for The 8G Band on Late Night with Seth Meyers. But I hope that she gets the fan following that she so deserves soon. Because talent of such proportions can't stay hidden for long.
28. Ana Popović
| | |
| --- | --- |
| Date of Birth | 13 May 1976 |
| Birthplace | Belgrade, Serbia |
| Bands | Hush |
Born in Belgrade, Serbia, into a music-loving family, Ana Popović grew up sharing her father's love for blues, classic rock, and the guitar. She started learning the instrument at fifteen, first from her father, then a private tutor, who she surprised by coming up with her distinctive style.
At 19, Popović formed a band, Hush, with whom she spent three years playing at clubs and blues festivals across Serbia, Greece, Hungary before disbanding to study jazz guitar in the Netherlands. Since then, Popović has released eight studio albums, including a 3-CD trilogy that showcases her take on rock, funk, jazz apart from the usual blues. She has built an incredibly impressive body of work over the decades, with each album further cementing her undisputable command on the guitar.
From jamming with her father in Belgrade to getting endorsed by Bruce Springsteen as "one helluva a guitar player," Popović has come a long way. Her ever-evolving craft can be witnessed on Experience Hendrix tours, where she is the only female member.
29. Badi Assad
| | |
| --- | --- |
| Date of Birth | 23 December 1966 |
| Birthplace | Brazil |
| Bands | Badi Assad |
An amazing combination of technical prowess and sheer creativity, Badi Assad has been astounding listeners with her music ever since 1995. Her unique fingerstyle playing and melodies have brought her a lot of much-deserved attention and adulation. She is the sister of classical guitarists Odair and Sergio Assad, both of whom are accomplished guitarists themselves. Assad is known to use the Paul Fischer nylon string guitar as her instrument of choice, along with a Takamine acoustic, an 'Angel Wings' guitar, and also a Luna ukelele on some occasions.
What is even more inspiring about Badi's story is that she was diagnosed with a condition called Focal Dystonia between 1998 and 2001. This is a condition mostly seen in musicians and golfers – a neurological disorder that causes involuntary spasms in small muscles across your body. This setback must have been hard to take for a virtuoso like Badi, but she didn't let it stop her!
Despite there being no known cure for the condition, Assad worked towards and made a full recovery – firmly making her come back with her album 'three Guitars', which she recorded together with John Abercrombie and Larry Coryell. She has, once again, been unstoppable ever since her recovery – if that is not inspiring, I don't know what is!
30. Nili Brosh
| | |
| --- | --- |
| Date of Birth | 13 August 1988 |
| Birthplace | Israel |
| Bands | The Iron Maidens, Danny Elfman, Tony MacAlpine |
This young gun is one of the guitarists proudly carrying the legacy of virtuoso guitarists forward! Nili Brosh is one of the youngest professors at the Berklee College of Music's summer music programs – her own alma mater where she graduated from in 2009. And the moment she graduated, she was almost instantly asked to join the line-up of some pretty epic bands – one of which was the iconic Tony McAlpine. I came across Nori's cover version of 'Cliffs of Dover' on YouTube, and it was hands down the best cover of the track I'd ever heard.
But that's not all, Brosh has also performed alongside other greats like Guthrie Govan, Andy Timmons, and Stu Hamm. Plus, her shredding prowess has been on full display as the guitarist of The Iron Maidens – a role she has moved on from. Brosh has a unique voice all her own on the instrument, made up of classy shredding, intelligent melodies, and memorable compositions. Watching her switch between lightning-fast shredding and slow tasteful licks is an absolute treat! Brosh's axe of choice is usually as Ibanez RG Prestige 7-stringer, with EMG pickups and a Peavy JSX amp.
31. Nori Bucci
| | |
| --- | --- |
| Date of Birth | 1970 |
| Birthplace | USA |
| Bands | Gamalon |
Nori Bucci is perhaps one of the most criminally underrated – and phenomenal – guitarists around! She taught herself the guitar by ear at the age of 16, and her style is incredibly unique and impressive. Bucci uses a versatile range of techniques and puts them to good use – often switching effortlessly between long winding, emotive passages to blistering shreds in the blink of an eye. Bucci has done some great work with her band Gamalon and can be heard on Youtube, and she has also released 3 solo albums of her own too. Just check her beastly musicianship out in this video we've shared.
But Bucci is a woman of many talents – she's also a well-accomplished visual artist in her own right. And despite her prodigious musical talent, she is taking time to explore and enjoy her visual artistry at present. We're very happy for her, but can't wait for the time when Bucci decides to enthrall us with her compositions again – guess we'll have to wait and watch.
32. Charo
| | |
| --- | --- |
| Date of Birth | 1951 |
| Birthplace | Murcia, Spain |
| Bands | Charo |
She is perhaps one of the – if not THE – finest Flamenco guitarists in the world, but the US still knows her as the 'cuchy-cuchy- girl! Charo, Maria Rosario Pilar Martinez, has been taught by none other than legendary guitarist Andres Segovia himself, who has gone on record to call her THE best Flamenco player in his book. While Charo started out by learning to play the guitar at Segovia's school for underprivileged children, her talent was clear to the teachers there, who then recommended her to Segovia for one on one tutelage. And the rest, as they say, is history.
Charo's playing style is astonishingly intricate, emotive, delicate, and technical. She is a true master of the instrument that has popularized the Flamenco guitar to the world. Charo shot to fame early on, making several TV appearances across famous shows like the Ed Sullivan show.
Unfortunately, the media (especially in the US) chose to highlight her flamboyant, over-the-top personality, letting it overshadow her absolute genius talent. In fact, Charo has admitted that her onstage persona may have swayed people to not notice the seriousness with which she plays and views her instrument. But whatever the case may be – that doesn't take away from Charo's expert musicianship in any way at all. Every genius has her/her quirks, don't they?
33. Ani DiFranco
| | |
| --- | --- |
| Date of Birth | 23 September 1970 |
| Birthplace | Buffalo, New York |
| Bands | Ani Difranco |
Ani DiFranco's aggressive and punchy approach to her guitar playing is as inspiring as her fearless songwriting is. Her approach uses several interesting open tunings and has a signature bassist-like thump and pop style. This rock-solid rhythm is what further bolster's her powerful vocals too. Her guitar playing style is above and beyond that of most folk-pop singer-songwriters, and its powerful impact on her overall musical style is obvious.
I've been a big fan of her sound ever since my college days and she's still one of my all-time favorites – the first track of hers I ever heard was 'Shameless' and that infectious track just grabbed my attention and never let go! She's usually seen sporting an Alvarez Yairi Wy1 Bob Weir Signature Guitar and a Rivera Sedona 1 x 15.
34. Ariana Powell
| | |
| --- | --- |
| Date of Birth | NA |
| Birthplace | Pennsylvania |
| Bands | Black Eyed Peas, Nick Jonas |
Ariana Powell was already somewhat of a guitar hero in the Pennsylvania music scene before she decided to shift bases to California for better prospects. And within a few short years, Powell became one of the most in-demand touring guitarists in the LA scene – touring with gigantic acts like the Black Eyed Peas and Nick Jonas.
Powell has not only gained respect and recognition for her technical guitar prowess but for her high degree of professionalism. Whether it's fast and furious solos or emotional melodic lines, Ariana pulls off both styles with equal ease and finesse.
Final Thoughts
We hope you enjoyed this list of some of the top female guitarists over the years, and hope that it inspires you to polish your own craft even more – whatever it may be! In recent years, we're witnessing more and more talented female musicians taking up the mantle and enriching the guitar craft with their unique styles and techniques – which is awesome!
If you're looking for some such amazing female musicians, check out our articles on the 25 best female bassists of all time, 15 best female punk bands, 18 best female metal singers, and the 12 best female-fronted metal bands. Enjoy and keep playing that guitar!