The longing, soulfulness, and gritty emotions evoked by the key of C minor have made it popular in blues and jazz. It doesn't sound as lamenting and melancholic as the key of D minor, nor does it sound upbeat as a major key.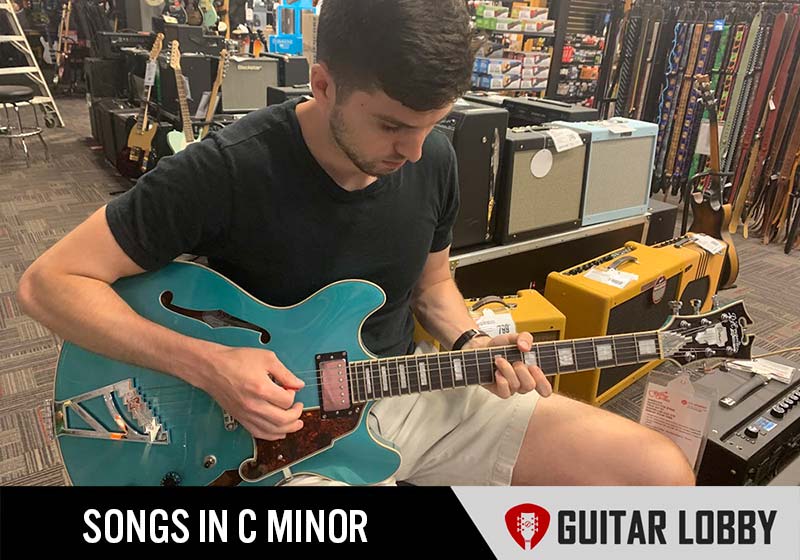 Here is a great list of songs in C minor that are a ton of fun to play. We also have an article on popular songs in minor keys if you're interested.
1. Get Up, Stand Up by Bob Marley
Arguably one of the most empowering tunes to come out of Bob Marley's groovy and emotionally evocative vault. "Get Up, Stand Up's" was inspired by the tragic state of affairs in Haiti (as witnessed by Marley on one of his visits) but has since evolved into a universal call for action anthem against oppression. Classic reggae strumming drives this one-chord wonder. That's right! You need only one chord (tsk! It's a barre chord) of C minor to play the rhythm. However, there's a lot going on in Marley's lead lines and those delightful riffs.
2. Eye of the Tiger by Survivor
Very few rockers boast of an intro as supercharged as the one in "Eye of the Tiger." It'll make you grab your guitar and play along. The song first became famous as a Rocky soundtrack, but its adrenaline-boosting riffs and simple yet catchy melody have made it a part of our collective memories. The key of C minor cleverly balances the aggressive vibe while adding more emotional depth. It's the perfect pick to brush up on power chords, palm muting, and alternate picking strumming.
3. You Give Love a Bad Name by Bon Jovi
This sassy song went further beyond becoming Bon Jovi's first chart-topper to one of the most popular hair glam anthems of the '80s. Fiery electric licks, a killer guitar solo, Bon Jovi's energetic vocals, and the whole raucous hard rock vibe power of "You Give Love a Bad Name" make it a contagious ride you want to be a part of. It's written in the key of C minor, and the intro riffs in C minor pentatonic scale are great for guitarists who want to perfect palm muting and pinch harmonics.
4. Sharp Dressed Man by ZZ Top
This top hat and flowy beard brigade from Texas has been winning hearts for their utterly infectious blues-rock compositions for over five decades. Theirs is the vault you should head to if scouting for solos and riffs in minor pentatonic scales. "Sharp Dressed Man" is a blues-rocker, albeit with a noticeable tinge of synth. It's made up of a solid 4/4 rhythm, fun lyrics, and a guitar solo by Billy Gibbons that's often hailed as one of the greatest in several polls and rankings.
5. Rolling in the Deep by Adele
"Rolling in the Deep" opens with a strummed guitar and a pounding drum beat, with more and more instruments joining in, fueling the intensity. It's got hands-down one of the catchiest choruses in recent times. It doesn't matter if your vocal pipes aren't as nearly as magnificent as Adele's. You will find yourself crooning along from start to finish.
Lyrically, it's a sad ballad about a devastating breakup for which a minor key, C minor, in this case, is perfect. You'll need a capo on the 3rd fret to play with an easier set of chords while also sounding like the key used in the studio version.
6. Hymn for the Weekend by Coldplay
In its songwriting phase, "Hymn for the Weekend" started as a party anthem but turned into a slow, melodic groove fest to not disappoint the British pop-rock band's legion of fans. A chunk of the credit for making this a dreamy, whimsical fare goes to Beyonce's gorgeous harmonies and Chris Martin's unusually non-falsetto voice.
Now, the original version is in the key of C minor but to make it more accessible, use a capo on the third fret to change the key and use an easier set of chords. You can Learn more by checking out the video lesson above.
7. Spiders by System of a Down
Another band whose discography is teeming with tracks written in the key of C minor is the Armenian-American heavy metal giants System of a Down. In the dark and eerie "Spiders," the band uses a minor key intro, slow tempo, haunting layered vocals, and an intense guitar solo to paint a dystopian society. It's one of their lesser-known songs, but a sonic treat, nevertheless.
Popular Article: Easy Acoustic Guitar Songs That Are Fun for Beginners
8. It's My Life by Bon Jovi
Here's Bon Jovi again on the list with their mega-hit arena rock anthem "It's My Life." the song, released in 2000, played an enormous part in expanding the band's reach to a younger audience and establishing their relevance in the post-'80s rock scene. It's in the key of C minor with a straightforward rhythm. In fact, even the lead parts are pretty simple if you are familiar with techniques like string bending, vibrato, and pull-offs.
9. Since I've Been Loving You by Led Zeppelin
With his jaw-dropping solos and power riffing, Jimmy Page has inspired millions to embark on their guitar journey. In the seven-minute-long slow blues ballad "Since I've Been Loving You," he belts out an insanely fluid solo driven by pick attack and deep bending. What's even more incredible is that it was recorded in a single take. The song is played in the key of C minor, which makes sense as this is Led Zeppelin's bluesiest composition.
10. Through the Fire and Flames by DragonForce
The game series Guitar Hero has put this song in the most challenging category in terms of playability. Give it a listen, and you'll know why. Written in C minor, "Through the Fire and Flames" is a 200 bpm whirlwind of lightning-fast riffing and heartstopping twin guitar solos by Herman Li and Sam Trotman. The song never fails to drive a crowd into a frenzy and remains to this date, DragonForce's most recognizable feat. This is one of my personal favorite songs in C minor.
11. We are the Champions by Queen
If fans' adoration and record-shattering success didn't prove as much, there are scientific experts who've gone on record to call "We are the Champions" the catchiest song ever composed. The spirited track kicks off with the key of C minor but doesn't stick to it throughout the song. After the intro and the verses, the key changes from C minor to F major. Check out the tutorial to learn more.
12. Say It Ain't So by Weezer
That iconic riff always makes me want to air guitar! It's catchy and never gets old! Now an alt-rock staple, "Say It Ain't So" was more of a sleeper hit that didn't even make it to the top 100s on release. Written in the key of C minor, the song's lyrics take listeners through frontman Rivers Cuomo's painful childhood memories. You'll need to tune your guitar a half step down to E flat before beginning the lesson. We've got a tutorial here to break down the guitar parts in this song as well as its alternate tuning.
13. Running Up That Hill by Kate Bush
Thanks to the popular Netflix sci-fi series Stranger Things, even zoomers know this Kate Bush classic by heart. And while the instrumental arrangement mainly involves cuckooing synths and driving drum beat, "Running Up That Hill" is perfectly playable on a guitar, acoustic, or electric.
Notice how the key of C minor delivers angst and restlessness in this hypnotic pop banger. Check out the tutorial above to learn how to play a fingerstyle arrangement of this tune.
Popular Related Article: Easy Electric Guitar Songs That Are Fun for Beginners
14. She Will Be Loved by Maroon 5
Maroon 5 released their career-changing "She Will Be Loved" as a single from their breakout album Songs About Jane over 18 years ago, but it still sounds as magical as ever. Adam Levine's soothing voice, heartbreaking lyrics, and captivating melody will always occupy a special place in our hearts. The C minor key, as always, works well in amping up the melancholic quotient of the piece. Playing-wise, it's a great bet for beginners as it's made up of a common four-chord progression.
15. Monkberry Moon Delight by Paul McCartney
An obscure gem from Paul McCartney's solo career. Set in the key of C minor, "Monkberry Moon Delight" sounds every bit as surreal as its title, which was apparently inspired by McCartney's child's wordplay around "milk." A chugging piano is the bedrock of this song. The lyrics are fun and cryptic, and a catchy guitar lick keeps showing up during the chorus. If you've somehow missed this underrated creation, play the video above.
16. Don't Speak by No Doubt
No Doubt's most successful single, "Don't Speak," captured the airwaves and hearts and became the ultimate breakup song of the late '90s. Lyrically, it explored No Doubt's iconic lead Gwen Stefani's rocky relationship with the band's bassist. The interesting thing about the song's key is that it changes from a C minor in the intro and the verses to an F minor in the chorus. Listen to the track and see if you can make the switch in the key by the ear.
17. Privateering by Mark Knopfler
Legendary guitarist Mark Knopfler's seventh solo album Privateering is a sonic delight packed with twenty songs, many of which are an eclectic blend of Celtic-tinged folk, rock, and blues. The fourth track, which shares the album title, chronicles the tale of a seafarer. Written in the key of C minor, the folksy "Privateering" treats listeners to Gaelic sounds and Knopfler's masterful guitar skills. Easily the best piece on this double album!
18. Chains by Nick Jonas
As a moody R&B track, "Chains" was radically different from the teenybopper Jonas Brothers' fare. Nick Jonas crooned in his smooth voice against minimalist instrumentation of kick drums and sub-bass synths. While the original version is in the key of C minor, a guitar arrangement requires you to put a capo on the third fret and play in the key of A minor. Confused? Check out the tabs and tutorial to know more.
19. Europa by Santana
"Europa" is often hailed as one of Santana's most melodically and harmonically sophisticated instrumental pieces. It opens slowly with a solo guitar and is later joined by another guitar playing a countermelody to increase the intensity. All in all, a soul-stirring romantic gem you can jam to or slow dance to with your partner.
20. Parallel Universe by Red Hot Chili Peppers
The key of C minor is perfect for the dark, reflective lyrics of "Parallel Universe." The loud and distorted track was a departure from the clean tones and funky basslines that Red Hot Chili Peppers is known for. And even though it was only a promotional single for RHCP's seminal Californication and didn't even get a music video, the song became a fan-favorite staple in the band's live performances.
21. Desert Rose by Sting
Sting wasn't impressed with critics categorizing "Desert Rose" in the world music genre. Nevertheless, this exotic concoction of Latin, Arabic, North African, and electronica became a chart-topping phenomenon and a high point in Sting's solo career. If you know your way around barre chords, you can play the song without a capo in its original key of C minor.
22. Scarface (Push It to the Limit) by Paul Engemann
If you've watched Al Pacino-starring mobster classic Scarface, you already know this synth-infused rocker. Since its release, "Push It to the Limit" has become a frequently used soundtrack in movies and tv series as a character evolution montage. Along with Eye of the Tiger (Survivor) and We are the Champions Queen, this zesty Scarface soundtrack showcases C minor key's gritty vibe.
23. Worth It by Fifth Harmony
Exotic saxophones, rapped verses, trappy beats, and lush vocal harmonies create unforgettable hooks in "Worth It" by Fifth Harmony. Easily one of the catchiest acts by the Miami-based girl group that rose to prominence on the American installment of X Factor in 2012. Click the video tutorial and tabs above to learn how to play this edgy girl power anthem. IF you're looking for easy songs in C minor to play on guitar then this is one I definitely recommend giving a try.
24. High Hopes by Pink Floyd
The thing about "High Hopes" is that it doesn't stick to just one key. While C minor dominates this Pink Floyd song, it switches to E minor for the guitar solo. The reflective and deeply personal lyrics show the band revisiting their early days. As the final track on their fourteenth album, The Division Bell, "High Hopes" was the band's last outing before they came together in 2022 to protest the Russian Invasion of Ukraine with "Hey, Hey, Rise Up!"
25. Enjoy the Silence by Depeche Mode
Depeche Mode became famous in the '80s for its synth and techno-infused pop melodies designed to pull the crowd to the dance floor. "Enjoy the Silence" allowed the fans to experience the band at one of their finest. It's written in the key of C minor and has atmospheric guitar riffs and slick chord progressions that you'd have an absolute blast learning.
Wrapping Up
The longing, soulfulness, and gritty emotions evoked by the key of C minor have made it popular in blues and jazz. It doesn't sound as lamenting and gloomy as the key of D minor, nor does it sound upbeat as a major key. You need only look at our list of 25 songs spread across genres to understand the versatility of C minor.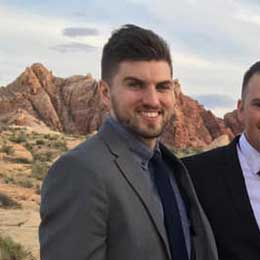 My name is Chris and I've had a passion for music and guitars for as long as I can remember. I started this website with some of my friends who are musicians, music teachers, gear heads, and music enthusiasts so we could provide high-quality guitar and music-related content.
I've been playing guitar since I was 13 years old and am an avid collector. Amps, pedals, guitars, bass, drums, microphones, studio, and recording gear, I love it all.
I was born and raised in Western Pennsylvania. My background is in Electrical Engineering, earning a Bachelor's degree from Youngstown State University. With my engineering experience, I've developed as a designer of guitar amplifiers and effects. A true passion of mine, I've designed, built, and repaired a wide range of guitar amps and electronics. Here at the Guitar Lobby, our aim is to share our passion for Music and gear with the rest of the music community.