Finnish guitar hero Alexi Laiho was a once-in-a-lifetime innovative performer. He stood out as one of the most skilled guitarists in a world already packed with guitar giants like Slash, Tom Morello, Steve Vai, John Petrucci, and many others in the 1990s.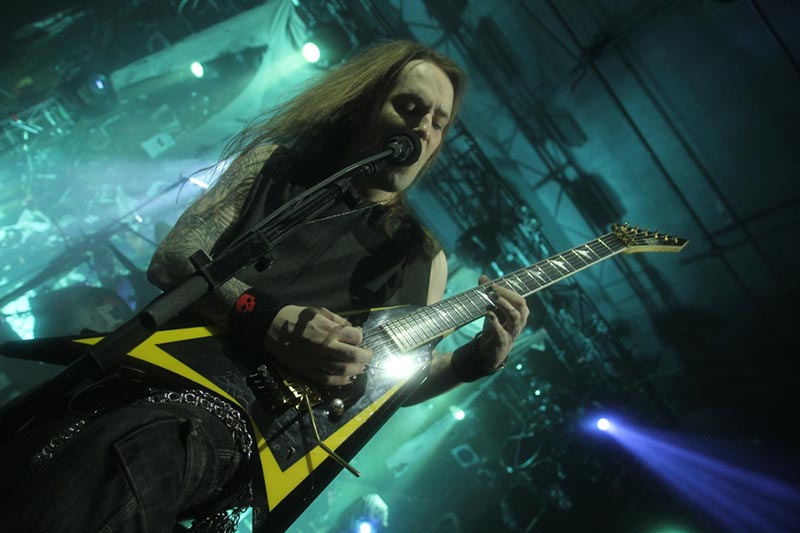 Alexi was nothing short of legendary. His music was influenced by black metal, power metal, and classical music, with blazing solos tying it all together. Laiho's peculiar style was later trademarked as "Demonic Shredding" one that would become more and more relevant in metal fans in recent years. He was best known as the lead guitarist, vocalist, and founding member of the melodic death metal band 'Children of Bodom'. He also played with 'Sinergy', 'The Local Band', and 'Bodom After Midnight'. Alexi Laiho's guitar work eventually earned him the moniker 'WILD CHILD' because of his fiery stage presence and incredible guitar shredding.
What Guitars Did Alexi Laiho Play?
Alex became known for playing his ESP RV guitars, the RV-350AL, and RV-398AL models. However, it was his more bombastic signature ESP LTD line of models that really managed to become heavily associated with his name and style, most notably his sibling six-strings Greeny, Scythe, and Pinky. 
See the full list of Alexi Laiho guitars and gear below.
ESP LTD Alexi-600 'Greeny'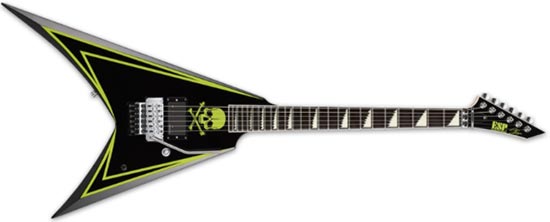 | | |
| --- | --- |
| Finish | Black with Green Skull & Stripe |
| Years Used | 2002 to 2021 |
For one of death metal's most melodic shredders, it was all about ESP guitars and cranked Marshalls. After Alexi's Jackson guitars were stolen in 2002, Alexi wanted Jackson to create a new custom guitar for him. But since Jackson had been sold to Fender, they said it would take them over a year to produce; which was too long for Alexi to wait.
Japanese guitar giant ESP and Alexi Laiho then collaborated sometime around 2003 to design a guitar that was meant for all things metal. The Alexi Laiho signature model ESP LTD Alexi-600 Greeny solid-body electric guitar was created to be the ultimate metal machine. It appeared first during the early 2000s and was one of the first ESP guitars used by the 'Wildchild' as a consecrated musician.
'Greeny' features a Floyd Rose 1000 series tremolo and top-of-the-line EMG Hz F-H2 humbucking pickups along with an ESP MM-04 preamp booster which stayed 'on' most of the time. This passive humbucker produces incredible clarity and devastating high-gain tones. With this pickup, there's no mush – just a pure, thick, and screaming tone. Combine this with the Floyd Rose which successfully delivered all those crazy dive-bombs, warbles, and dips.
If you've ever seen Alexi play, you'll know how meticulously he executed each note. The ESP LTD ALEXI-600 GREENY guitar delivered each note with a firm punch, no matter how fast and furious he played. The body is decorated with a green skull and stripes, while the fretboard has green sawtooth inlays alongside glow-in-the-dark scalloped frets – one of Alexi's favorite designs.
The solid alder body, a thin U-shaped contoured maple neck, and a smooth ebony fretboard combine to provide excellent sustain and playability. The heavily modified V-shaped body sports a cutaway that offers ultimate access to the upper fretboard. The neck-through design allows for extra-long sustain and flavorful articulation.
Custom Shop ESP RV

| | |
| --- | --- |
| Finish | Black with White Glow in the Dark Pinstripes |
| Years Used | Unspecified |
Alexi's series of ESP signature guitars continues with this one. This signature ESP RV is handmade in Japan. Alexi's early custom shop Jackson guitars, which had the Randy Rhoades (RR) body form, were the inspiration for this ESP guitar. Because Jackson holds the rights to the RR form, the North American models have a longer lower horn. Furthermore, because of this conflict of rights, this instrument is extremely rare in North America.
The ESP Custom Shop RV features an alder body with a neck-through design, a three-piece hard maple neck, and a 24-fret ebony fretboard with white binding. The iconic EMG HZ-FH2 single pickup is there, as well as the standard MM-04 gain boost, which is controlled by a simple switch near the volume knob. Other features include a quality Floyd rose bridge, Gotoh SG360-07 tuners, and luminescent inlays that keep the sawtooth design from previous models.
ESP LTD Alexi-600 'Scythe'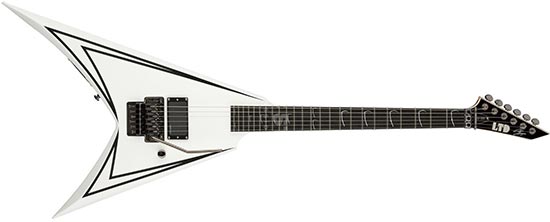 | | |
| --- | --- |
| Finish | White With Graphic On Guitar Back |
| Years Used | 2006 to 2021 |
This guitar was used by Alexi in the making of the album 'Chaos Ridden Years' in 2006. He is also seen using one of these in the video of 'Paint The Sky With Blood' by 'Bodom after Midnight' released recently in 2021. This model was another one of Alexi's favorite signature ESP guitars which were tuned to D standard – a whole step down from standard tuning.
The ESP LTD Alexi-600 Scythe is crafted from lightweight alder and a 3-piece maple neck which provided a very comfortable playing experience. One of these was also used by Josh Middleton around the time of Sylosis' debut album 'Conclusion of an age', as seen in the music video for Teras.
Similar to the ESP custom shop model 'Greeny', this guitar is equipped with a single EMG HZ F-H2 passive humbucker and an EMG MM-04 gain boost controlled with a simple switch near the volume knob which almost always stayed on to produce the signature screaming tone of the 'WildChild'.
This eye-catching guitar is finished in white with black stripes with Scyth-shaped inlays which stood out on any stage. The 24 fret ebony fingerboard not only produced exceptionally bright and well-focused tones but also provided a smooth surface, enabling Laiho to shred like himself.
ESP Alexi Wild Scythe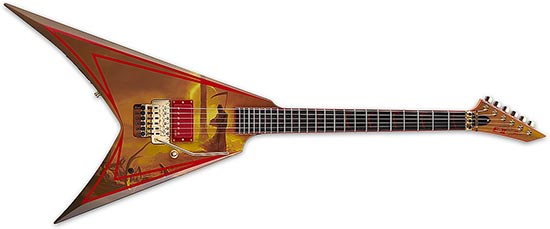 | | |
| --- | --- |
| Finish | Custom "I Worship Chaos" Graphic |
| Years Used | 2015 to 2021 |
The ESP E-II WildScythe is the newest addition to Children of Bodom frontman Alexi Laiho's ESP Signature Series. This guitar was used by Alexi during the band's 'I Worship Chaos' era, which was released in 2015. The Children of Bodom were at the peak of their career, and so, what better way to celebrate and promote it than with yet another custom-made guitar.
The first thing you'll notice about this guitar is its eye-catching finish. Featuring the custom 'I Worship Chaos' album artwork. We can safely say that the WildScythe is not only the newest but also the wildest of all its predecessors. The finish on this guitar is bound to shine even with the lights off.
The E-II Wild Scythe features a neck-through-body design with a 25.5" scale, a comfortable alder body, a fast and smooth three-piece maple neck, and an ebony fingerboard with 24 extra-jumbo frets with frets 20-24 scalloped into the fingerboard, all made in ESP's factory in Japan with premium quality materials.
A Floyd Rose Original bridge, Schaller strap lock, and Gotoh tuners are among the high-end features. The ESP E-II Wild Scythe has a dynamic sound thanks to its passive EMG HZ-FH2 humbucking pickup. For that extra sound without the unwanted background noise, the powerful passive pickup is combined with an active MM-04 preamp boost like all of Alexi's previous signature ESP's.
With a lightweight alder body and neck-through construction, this signature Alexi Laiho guitar provides the ultimate comfort. On another hand, the incredibly striking artwork on this ESP guitar gives it a stand-out appearance and makes it a great collectors piece too.
ESP LTD Alexi-600 Sawtooth 'Pinky'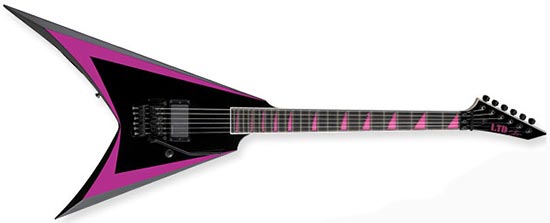 | | |
| --- | --- |
| Finish | Black with Pink Pinstripe |
| Years Used | 2006 to 2021 |
'Pinky' or the ESP LTD Alexi-600 Sawtooth 'Pinky' was another one of Alexi's ESP signature guitars. It had an electronic configuration similar to the ESP custom shop 'Greeny' and 'Scythe', and it was handcrafted in Japan. This guitar was used by Alexi along with the 'Scythe' around the time of the album 'Chaos Ridden Years' by 'Children Of Bodom', it also made some iconic appearances on stage, for one the COB's show at Rockpalast in 2017.
Like the other guitars, this also had the signature single EMG HZ F-H2 passive humbucker and an EMG MM-04 gain boost controlled with a simple switch near the volume knob. It has an alder body with a 3-piece maple neck and an ebony fretboard with pink inlays shaped like a sawtooth. The wild finish of the guitar made sure that it stands out among everything else on the stage.
Alexi talks about using this guitar in several videos, and it was one of his favorites in the recent years before his death. It's also one of my personal favorite Alexi Laiho guitars of all time.
ESP Alexi-200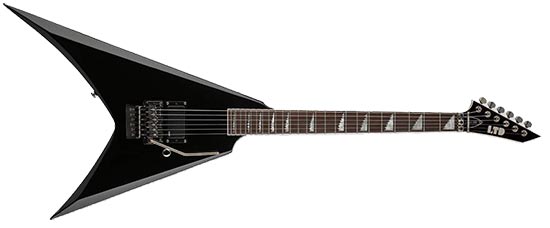 | | |
| --- | --- |
| Finish | Black |
| Years Used | 2007 to 2021 |
The ESP Alexi-200 is a less expensive, budget-friendly version of Laiho's signature guitars, designed with Laiho's fans in mind. This was the first signature model under his name, and it laid the ground basis for his future guitars. It has limited features since it's the entry-level to Liaho's guitar design, but that doesn't keep it from being an absolute gain machine.
It sports a rosewood fretboard and a u-shaped 3-piece maple neck with a neck-through alder body. It also has distinctive sawtooth inlays and black hardware, which fit nicely with the overall aesthetic of the guitar. The guitar comes with an ESP LH-301 humbucker pickup that has plenty of power to sound like Alexi. A Floyd Rose tremolo bridge is also included, allowing the player to scream and groan this beast to their heart's content.
This guitar, according to many Alexi fans, delivers a superb tone with little to no noise and is also very comfortable. Although the guitar does not arrive with a perfect set-up out of the box, the tremolo bridge's playability and tuning stability improve dramatically once it is professionally set up.
"Being a Children Of Bodom fan, owning one of them is a pleasure," one user said, confirming that this instrument, although being an entry-level guitar, stands out among its competition.
Popular Related Articles: Zakk Wylde Career Guitar History
Custom Shop Jackson "WildChild"

| | |
| --- | --- |
| Finish | Black With Yellow Painted Bevels |
| Years Used | 1997 to 2002 |
Around the late 1990s, Alexi maintained a collection of Jackson guitars, which he used to record many of Children of Bodom's early albums. He played a Randy Rhoads (RR) with white pinstripes and a 24 fret custom shop RR with a Wildchild sticker.
Alexi addressed the instrument in an interview, stating that he only had one Jackson guitar, which was broken and stored away. However, on September 28th, 2002, following the Spinefest, these two Jackson RRs were stolen. After their performance, the band is alleged to have hidden their guitars behind the amps and gone away, only to return later to find them gone. But this wasn't the end for Laiho and his yellow striped guitar, years later he would order a special ESP signature with upgraded and updated features but with an essentially identical body to his original Jackson six-string.
All gold-plated hardware and an authentic Floyd Rose bridge were included with the Custom shop Jackson model. It had an alder body with an ebony fretboard and neck-through construction.
The J50-BC pickups and the Jackson JE-1000 Gain booster, as well as volume control, made up the electronics. Finally, it included authentic Mother of Pearl (MOP) inlays and a genuine MOP Jackson logo on the headstock. This guitar is said to be one of Laiho's first and most well-known guitars.
ESP Edwards E-AL-166 Blacky

| | |
| --- | --- |
| Finish | Black with Black Pin Stripes |
| Years Used | Unspecified to 2008 |
The ESP Edwards series Blacky is another signature ESP guitar that belonged to the WildChild which was used by him around the time of 'Blood Drunk', the sixth album from Children of Bodom. Alexi said in an interview that he always wanted a guitar with a cool matte black finish and hence this guitar came into existence.
This guitar had a majesty of its own, despite being the least wild of the siblings -Scythe, Greeny, and Pinky. The instrument was produced entirely by hand in Japan, utilizing only the finest tonewoods and materials.
It has an alder body with a neck-through design for optimal sustain and access to higher frets. The three-piece hard maple neck features a scalloped ebony fretboard with 24 extra-jumbo-sized frets.
Other premium features on the ESP Edward series Blacky include Gotoh locking tuners, Floyd Rose tremolo bridge, and a Seymour Duncan Blackout active humbucker pickup, rather than the standard EMG HZ F-H2 passive humbucker. It also included the ESP MM-04 preamp booster, which Alexi needed. This preamp booster not only enhances the signal but also adds eq, resulting in an excellent sound even when used with inferior amplifiers.
Popular Related Article: Dimebag Darrell Rig Rundown
ESP Custom Shop Alexi Laiho Ripper Sawtooth

| | |
| --- | --- |
| Finish | Purple Fade |
| Years Used | 2020 to 2021 |
Alexi Laiho recently received two custom-made guitars from the ESP Custom Shop in Tokyo, Japan. Both of the new guitars are built on the same guitar shape as Alexi's ESP and LTD Signature Series instruments. Alexi's fresh ESP Customs are both finished in Purple Fade. One of them has the same single pickup design as its predecessors.
Alexi's second ESP Custom has a few different options. The first is the custom guitar's unique striping design, which is one of a kind. Alexi also added a second pickup, an EMG single-coil in the neck position that can be accessible by a selector switch, as well as a scalloped fingerboard in the top five frets. Both models include neck-through-body construction, a Floyd Rose Original bridge, an ESP MM-04 Active Boost Switch, and sawtooth fingerboard inlays, just like Alexi's other ESP trademark guitars. This guitar was nicknamed the 'Ripper Sawtooth' by Alexi.
Custom Shop Jackson "Stone" Randy Rhoads

| | |
| --- | --- |
| Finish | Black with White Pinstripes |
| Years Used | 1997 to 2002 |
The custom shop Jackson 'Stone' RR was one of the first Jackson guitars used by Alexi Laiho around 1997. Jiri Jalkanen from the band 'Stone' formerly owned this guitar. The lower fin of this guitar also has a Stone sticker on it which is why Alexi nicknamed it 'Stone'. Alexi purchased this instrument from Musamaailma, a Finnish guitar seller who later formed a long relationship of collaborations with Laiho. This guitar became truly iconic however when an early video of Alexi playing it along with Roope Latvala surfaced in recent years.
A neck-through alder body with an ebony fretboard was featured on this custom shop Jackson guitar. It had 24 frets with scalloped frets 21-24. The inlays were Mother of Pearl Shark Fin position inlays, which looked slick and went nicely with the guitar's over-metal vibe. It also has an original Floyd rose at the bridge position, as well as a single JE1000 pickup with a volume knob. This single pickup setup became a requirement in nearly all of his subsequent six-strings.
Alexi used this guitar for a long time for different albums with his multiple projects, for example, Something Wild in 1997, Hatebreeder 1999, Tokyo Warhearts 1999, To Hell And Back 2000, and Follow The Reaper in 2001. Unfortunately, this guitar along with Alexi's other custom shop Jackson guitars got stolen after a live show in 2002.
Popular Related Article: Randy Rhoads Guitar and Gear Rig
Ibanez RG220B

| | |
| --- | --- |
| Finish | Black |
| Years Used | 1997 to 2005 |
This Ibanez RG220B is unique in that it was one of the first guitars Alexi Laiho used for his professional recordings. Despite Alexi's eventual switch to Jackson Guitars, the Ibanez RG220B retains its significance. In 1997, Laiho recorded the first Children of Bodom album "Something Wild" with an Ibanez RG220B and a Jackson Custom Shop (purchased from a member of the Finnish band STONE, of which Roope Latvala was a member).
The Ibanez model came with a basswood body bolted to a maple neck with a 24-fret rosewood fingerboard along with dot position. The bridge was originally loaded with single locking SLT101 tremolo and Ibanez Powersound pickups which were later replaced by Ibanez in the later models. Other changes for this model include a switch from a three-way to a five-way pickup selector in 2003 and a three-piece maple neck in 2005.
Ibanez introduced the RG220B, a solid body electric guitar in the RG series, in 1998. It was made in South Korea by Cort. It was a limited-edition model believed to have been sold exclusively through the Guitar Center chain of stores in the United States. After 2005, the RG220B was no longer produced by Ibanez.
Timetable Showing Each Guitar Alexi Laiho Played in Each Point of His Career
| Make | Model | Color/Finish | Years |
| --- | --- | --- | --- |
| ESP RV | Custom Shop | Black with White Glow in the Dark Pinstripes | Unspecified |
| ESP Edwards | E-AL-166 Blacky | Black with Black Pin Stripes | Unspecified to 2008 |
| Jackson | Custom Shop "WildChild" | Black With Yellow Painted Bevels | 1997 to 2002 |
| Jackson | Custom Shop "Stone" Randy Rhoads | Black with White Pinstripes | 1997 to 2002 |
| Ibanez | RG220B | Black | 1997 to 2005 |
| ESP LTD | Alexi-600 'Greeny' | Black | 2002 to 2021 |
| ESP LTD | Alexi-600 'Scythe' | White With Graphic On Guitar Back | 2006 to 2021 |
| ESP LTD | Alexi-600 Sawtooth 'Pinky' | Black with Pink Pinstripe | 2006 to 2021 |
| ESP LTD | Alexi-200 | Black | 2007 to 2021 |
| ESP | Alexi Wild Scythe | Custom "I Worship Chaos" Graphic | 2015 to 2021 |
| ESP | Custom Shop Alexi Laiho Ripper Sawtooth | Purple Fade | 2020 to 2021 |
Alexi Laiho Amplifier Overview
Lee Jackson Perfect Connection GP-1000 Preamp
Years Used: 1999 to 2021
Alexi used the Lee Jackson GP-1000 on almost all of his recordings. From "Hatebreeder" to the Sinergy albums, this was his weapon of choice. The Perfect Connection GP-1000 preamp was made by Lee Jackson. This is the rare 1987 model of which only a couple hundred were made (out of 10,000-15,000 estimated by Lee Jackson).
The Perfect connection GP-1000 preamp works perfectly as a part of Alexi's simple but powerful setup. He used this for multiple recordings as well as live performances. The pots and tubes are completely noise-free and come loaded with the highly sought-after Beijing military 12AX7s vacuum tubes.
The GP-1000 is well-known for its incredible lead sound and smooth crunch, but with the right settings, it also has amazing Fender cleans. This is no surprise considering the circuit originated as a heavily modified Fender Deluxe Reverb preamp. We can safely say that it was a very versatile and reliable preamp in the WildChild's arsenal and a key part of his signature tone.
Marshall JVM410H 100-Watt Tube Guitar Amp Head
Years Used: Unspecified
Alexi said in an interview that he used a "bone stock" version of this amp. The JVM Series 100-watt JVM410H valve-driven power stage is built on the classic design responsible for the legendary Marshall roar found in the JCM800 2203 and Plexi Super Lead amplifiers – a timeless foundation for countless classic rock and metal guitar tones for over four decades.
The JVM front panel is simple and uncompromising; dedicated gain, EQ, volume, and reverb are present for each of the four channels. As a result, the JVM410H offers an amazing array of instantly switchable tones – from the cleanest clean to the highest gain ever found in a Marshall and all points in between! Overflowing with a harmonically rich tone and responsive fluidity, this amp greatly suited Alexi's need for a juicy metal tone.
Throughout the years, Laiho employed this rig, which included his Marshall JVM410H head (serial number M-2007-32-0567-1), Marshall 1960B 4×12" cabinet (serial number M-2002-05-1354-Z), and his bespoke pedalboard, as his primary touring and studio rig.
Peavey MKI 5150 head
Years Used: 1997 to Unspecified
Since 1992, Peavey Electronics has been making this vacuum tube-based guitar amplifier known as the Peavey 5150. Eddie Van Halen had this amp built as a signature model. Alexi used the Peavy MKI 5150 head as one of his first amplifiers.
In 1997, he used this, along with his custom shop Jackson 'Stone' and his Ibanez RG220B, to record his first debut album, 'Something Wild,' with Children of Bodom. The amplifier's design began in 1990, and it quickly became Peavey's flagship project.
The fixed bias is a distinctive feature that is largely responsible for the 5150 sound. While it was able to stand out among current technology as a relatively "basic" design, especially when compared to boutique "hand-wired" varieties, its dependability gained it a place in Hard Rock and Metal as a one-of-a-kind device with a one-of-a-kind tone.
VHT 2/90/2 Power amp
Years Used: 2003 to Unspecified
Around the time of the Hate Crew Deathroll album in 2003 and the Chaos Ridden Years album in 2006, Alexi used the VHT 2/90/2. According to users, VHT's power amp is extremely clean, powerful, and versatile. This unit is also extremely loud and heavy, which is one of Alexi's signature metal elements.
The 2/90/2 combines the clarity and lower midrange punch of a 6L6 with the rich upper harmonic detail of a classic EL34 amp. The VHT 2/90/2 Power Amp delivers 60 effortless watts per channel into a 4, 8, or 16-ohm load in Low Power Mode. Low Power Mode allows for maximum power amp saturation while maintaining a low fan speed, which is ideal for studio recording where quiet fan operation is required.
Alexi Laiho Pedals and Effects Overview
Boss DD-7 Digital Delay
Alexi stated in an interview that he primarily utilized this Boss DD-7 delay for solo performances. This was quite useful for both recording and controlling live performances. As a result, it occupied a special place on Alexi Laiho's pedalboard throughout his whole musical career.
With features including Modulation Delay mode, classic modeled Analog Delay mode, External pedal control options, greater delay length, and more, the DD-7 took the greatest characteristics from its predecessors and provided creative potential. The DD-7's stereo output could be used to generate remarkable effects like spatial audio sweeps and genuine stereo panning, which were crucial to Alexi's screaming solos.
Dunlop KH95 Kirk Hammett Signature Cry Baby Wah
The Dunlop KH95 Kirk Hammett Signature Cry Baby Wah was developed in close collaboration with the metal guitar icon Kirk Hammet himself. Kirk's EQ, loudness, and tone settings were meticulously replicated by Dunlop's engineers. This pedal could successfully reproduce the legendary tone that Kirk dials in on his tour. It was precisely adjusted and tweaked to deliver the wah sound that revolutionized metal solos.
Alexi once said that he preferred this pedal because it has the most 'high-end' in its wah sweep. This pedal, according to some of its other owners, has a very even response as you move from heel to toe, as well as a hefty top end and a wide dynamic range. For those wild solos, this is the most important tool.
MXR M134 Stereo Chorus
Alexi Laiho was once asked about the effects pedals he uses, where he replied by saying that he uses only one. He said he only uses an MXR Stereo Chorus and that's all he needed. He also stated that he does not enjoy messing around with effects. He was a firm believer in only needing one excellent guitar sound and that the rest was up to the guitarist's skill level.
The MXR M134 Stereo Chorus provided a lush analog chorus with several settings for shaping the tone and preserving low-end frequencies. This Stereo Chorus pedal is noted for bringing that additional "something" to the tone of the guitar while also providing a wide range of versatility. This pedal has been Alexi's only go-to effects pedal and a component of his "simple but powerful" gear over the years.
T-Rex Engineering Fuel Tank Junior
Fuel Tank Junior is a lean, mean power supply that can power almost any 9-Volt effects pedal, as well as a few others. It has five independent outputs that provide the pedals with clean, silent power. It can also transition between 115 and 230V, allowing it to be used in many parts of the world. Above all, Fuel Tank Junior is a true powerhouse with a little footprint. This is what powered Alexi Laiho's simple and powerful rig, even during his live performances.
Alexi Laiho Guitar Picks and Strings
DR Strings
Alexi Laiho used two of his signature strings, one at nine-gauge and the other at ten-gauge, that he created in partnership with DR strings. These 'Alexi Laiho' signature strings have a circular core wire and nickel-plated steel wrap wire that is protected from corrosive elements by a molecular bonding liquid polymer.
According to Alexi, "They sound big, fat and bend like no other." He also expressed how great it feels to not have to worry about a broken string, no matter how crazy one gets with the strings, similar to how the 'WildChild' blended all of his insane techniques into his distinctive playing style.
Jim Dunlop Jazz III Picks
Jim Dunlop's Jazz III picks are fantastic and incredibly accurate. It is incredibly smooth with minimal resistance, according to users, and has a sharp pointed end that produces a really good tone. For lead guitarists like Laiho, this pick makes it easier to deliver blazing rapid solos and sweeps. The sharp tip, according to Laiho, is a fantastic thing that makes the tone more accurate and the sound nastier.
Wrap Up
Alexi Laiho was a genius innovator who brought back melody and flamboyance to metal music in an era of post-grunge and nu-metal. His guitar style was unique; consisting of wild, blistering solos and advanced techniques that were inspired by both classical music and metal music.
There have been multiple occurrences where he refused to cancel his shows even after being severely injured, like in late 2009 when the band's tour bus took a hard turn, Alexi fell out of his tour bus bunk bed in the middle of the night, and then crashed to the ground, breaking his clavicle and a rib. But the next day, he played the show even though he was in great agony. Laiho immensely inspired and motivated his fans at the time, and this is what made him truly legendary.
Alexi was both a natural and a perfectionist. Laiho proved that no matter how many great people are already out there, one can still shine the brightest and stand out if that person works hard for it. Throughout his journey, he kept inspiring millions of people who want to follow in his footsteps all around the globe.
Sadly, the "Wild Child" succumbed to his illnesses which had arisen from damages sustained by years of alcohol abuse and a very unhealthy lifestyle. His contribution to metal over the past two and a half decades was revolutionary, and will certainly never be forgotten.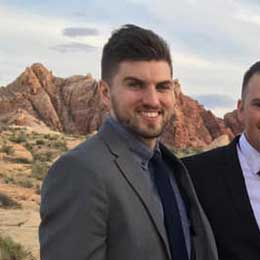 My name is Chris and I've had a passion for music and guitars for as long as I can remember. I started this website with some of my friends who are musicians, music teachers, gear heads, and music enthusiasts so we could provide high-quality guitar and music-related content.
I've been playing guitar since I was 13 years old and am an avid collector. Amps, pedals, guitars, bass, drums, microphones, studio, and recording gear, I love it all.
I was born and raised in Western Pennsylvania. My background is in Electrical Engineering, earning a Bachelor's degree from Youngstown State University. With my engineering experience, I've developed as a designer of guitar amplifiers and effects. A true passion of mine, I've designed, built, and repaired a wide range of guitar amps and electronics. Here at the Guitar Lobby, our aim is to share our passion for Music and gear with the rest of the music community.